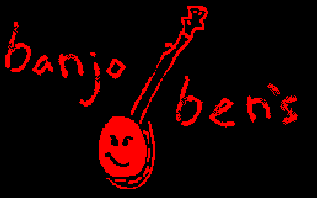 Banjoben's Personal Tab Collection ONLINE: 100 Essential Bluegrass Banjo Solos
Not for Beginners!
Here are over 100 bluegrass banjo solos in MP3 format, played by me, for you to listen to directly from this page. For access to the full page, which includes all the MP3s and all the corresponding PDFs of the all the tabs, pay $10 with Paypal below.
These are carefully arranged solos, most of which are not too hard to learn, while sounding very professional when played accurately.
The left hand column are the Mp3 audios, in stereo, and the right-hand column below are some selected sample PDF files of the associated tablatures to learn from. These printable PDFs that appear below are just a few selected samples.
If you want ALL the tabs in PDF form(over 100), you can purchase ACCESS to the complete webpage, FOR $10, showing the complete list.
"Ben,
Thanks for getting back to me so quickly. You have one of the best sites I've seen for banjo players. It is a great bargain for just $10. ...Fred S."
Click below to use Paypal to purchase access to the webpage
For only Ten Dollars
that shows all 100+ banjo solos (MP3s) along with ALL THE ASSOCIATED PDFs. (Note!!!!: Before exiting out of the Paypal transaction, click on their link that says, "Return to benfreed@optonline.net" to be taken to the complete webpage of 100 solos. Don't forget to bookmark the page!
questions: benfreed@optonline.net
questions: benfreed@optonline.net