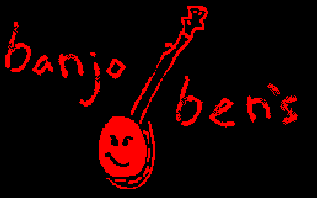 Recommended classic bluegrass banjo records. You can get most of these at http://www.elderly.com
These are just a few!!
1, Country Gazette: "Don't Give Up Your Day Job" and "Traitor In Our Midst", two reissued LPs on one CD, with the great Alan Munde on banjo. It's $21 but well worth it. Highly recommended....

2. "J.D. Crowe and The New South", a classic modern bluegrass recording:
3. Earls Scruggs' "Foggy Mountain Banjo" album, is reissued on CD, has all the tunes from his great instruction book... and don't forget to listen to anything by Flatt and Scruggs.
4. The Lonesome River Band CD: "Carrying the Tradition". A modern recording with Sammy Shelor on Banjo
5. Johnson Mountain Boys, " Blue Diamond" featuring the banjo playing of Tom Adams in top form
6. Tony Trischka's "A Robot Plane Flies Over Arkansas". Also try his "Banjoland " and "Hill Country" recordings.
7. Bela Fleck's "Drive", a very influential recording
8. Bill Keith. "Banjoistics"
9. Other good pickers to listen to: Pete Wernick(Hot Rize), Ron Block(Allison Krause), Sonny Osborne, John Hartford,
Back to home page for learning Bluegrass Banjo
Ben's Personal Tab Collection::One Hundred Essential Bluegrass Banjo Solos