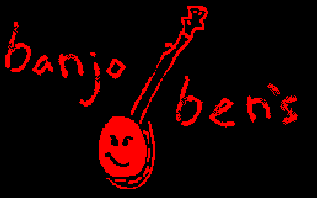 list of New York Metropolitan area teachers of OT and bluegrass music
Do you know any others? please let me know
Alice Backer (Westchester County) teaches fiddle (Old-Time, Bluegrass,
Scottish and French Canadian). Also, runs a Beginning/Intermediate Old-Time
Band Workshop in Tarrytown, New York on the third Sunday of the month. More
info: alicebacker@optonline.net

Jack Baker Bluegrass Banjo and Fingerpicking Folk Guitar lessons in NYC
(Greenwich Village Area), Monday - Friday. On weekends I give lessons in
Hampton NJ, Hunterdon County. Please call Jack Baker at: 646 526 3351. For more
information visit my website at: http://www.frettedinstrumentsnyc.com



international directory of BLUEGRASS BANJO teachers
Rusty Boris: private lessons for bass and applied music theory, Ulster County
www.bigbassboris@aol.com

PoorBob - Acoustic & Electric Guitar, Specializing in Delta Blues, Open Tunings, Slide & Chicago / Texas Blues. New Jersey Area (201) 313 -1869 email poorbob@bellatlantic.net
John Carlini teaches 5-string banjo and acoustic guitar in NJ. Email at john@johncarlini.com For performance info, acoustic music/jazz news, and music samples, please visit our web site www.johncarlini.com
Bill Christofersen FIDDLE LESSONS: now actively seeking fiddle students. Conversant with both bluegrass and old-time old-time styles, can be reached at 212-222-0278. Upper West Side Manhattan.
Todd Collins - mandolin, guitar, and banjo. North Jersey. www.toddcollinsmusic.com
Michael Daves
I teach all American roots styles on guitar and mandolin, specializing in Bluegrass, Old-Time, fingerstyle Blues and Ragtime, and Jazz. My teaching approach is adaptable to individual students' needs and backgrounds but emphasizes the cultivation of an intuitive grasp of music through improvisation, theory and ear training. More information on my lesson style is available on my website at
http://michaeldaves.com/index.htm
I perform as a solo artist as well as with banjoist Tony Trischka and mandolin virtuoso Chris Thile (of Nickel Creek fame), and have performed with Roseanne Cash, John Herald (of the Greenbrier Boys), Greg Garing, Chip Taylor + Carrie Rodriguez, Gordon Stone, Howard Fishman, Josh Roseman, Jen Larson, the Klezmer Mountain Boys, and Matt Munisteri (Brock Mumford).
I am taking on a few more students in daytime slots. If you are only available in the evening (6:30 on) I have a wait list for those times but things do open up from time to time. I don't teach on weekends. I am located in Park Slope, Brooklyn very near the F/R trains at the 4th ave/9th street stop. My rate is $50/hr.
Terry Dignon teaches old time fiddle and banjo styles in NYC. Please visit http://www.terrydignon.com to arrange a lesson.

Laura Feddersen
- Experienced fiddle teacher. I enjoy working with students of all levels, from complete beginners to more advanced players. I'm located in Brooklyn and can teach at my own place or arrange to come to you. I specialize in Irish and Old Time American styles.
Give a call or drop me a line, 646 643 6329,
laura.feddersen@gmail.com
My name's Finn
and I teach oldtime and traditional Irish fiddle lessons. I live in Manhattan and can travel to you. I enjoy teaching all ages and skill levels and prefer one-on-one instruction. My rates are $50 an hour.
www.andrewfinnmagill.com
finnmagill@gmail.com
828-273-2011
Ben Freed free bluegrass banjo lessons on line (banjoben) Westchester, bluegrass banjo... 914 273 6545 ben's bluegrass banjos for sale
Wayne Fugate ... Mandolin ... Southern NY State / Northern NJ e-mail:
waynejf54@netscape.net
Beginning Bluegrass Banjo instruction in North Jersey. Call Gene @ 973 838 0136 after 6 PM or email: epumph@yahoo.com 1/03
Greg Garing (New York City) is currently accepting students for guitar, mandolin, fiddle, dobro and banjo. Greg has been playing professionally since 1978, and among his credentials, he worked for bluegrass legend Jimmy Martin as a Sunny Mountain Boy, as well as being a central figure in the 1990s revival of Nashville's Lower Broadway music scene. His resume also includes being a member of the Greenbriar Boys, and he's performed alongside Bill Monroe, Ralph Stanley, Willma Lee Cooper, John Herald, Jesse McRenolds, The Season Travelers, Vassar Clemments, Benny Martin, Kenny Baker, Roy Huskey Jr, Doug Dillard and Josh Graves.

Greg welcomes the opportunity to share his knowledge and love of American roots music, and he can be reached at 512-529-5306.



Josh Gordon teaches Appalachian fiddle and mandolin, country and swing guitar, and bass. Greenwich Village location, or will travel within reason. Adults and children welcome. Fun and patient instructor, excellent references, 20 years' experience. Please call (646) 329-5764 for information, or write to southernswing@aol.com.




Hi all. Robin Greenstein here. I'm a female guitarist/banjo player in Manhattan. I teach banjo and guitar and voice in the NYC area. I will travel to Westchester if I can bundle some students together. I am a former clinician for Martin Guitar and have a music degree as well.

I teach old time frailing and clawhammer banjo, old time 2 and 3-finger picking, and basic bluegrass banjo. Guitar: finger-picking, classical, blues, using a plectrum, accompaniment for singing and general playing. My website is

www.robingreenstein.com

and my e-mail is

robinpg@aol.com




Faser Hardin (Manhattan) teaches hammered dulcimer. All styles taught
including Scottish, Irish and old-time fiddle tunes. Call 646-342-7583
or email faserh@aol.com.

Earl Harrington - Beginner-Advanced Earl Scruggs 5 String / Basic Clawhammer Studio: Located in Brooklyn, NY Email: banjolessonsnyc@gmail.com
Website: http://www.banjolessonsnyc.com

Hilary Hawke teaches clawhammer and fingerstyle banjo in Williamsburg, Brooklyn. She has been teaching privately for over 5 years, holds a bachelors degree in music education and is pursuing her masters of arts degree at Columbia. She is one of the banjo instructors at the Jalopy Theatre in Red Hook, Brooklyn with group sessions starting every 8 weeks. She also runs an oldtime slow jam in Williamsburg every 2nd and 4th Sunday of the month. Please check www.meetup.com/oldtimeslowjam, or email Hilary at pickenchicken23@yahoo.com or www.hilaryhawkemusic.com about private lessons

Homegrown String Band fiddle player Erica Jackofsky teaches fiddle at her
home in Rocky Point NY (north shore of eastern Long Island). Learn old-time
fiddle tunes, improvisation, and back-up fiddle. "The Homegrown String Band has a
true fiddle powerhouse with daughter Erica" – Sing Out!
fiddlelee@optonline.net www.homegrownstringband.com

SANDY ISRAEL: 5-string banjo lessons. Learn to handle Bluegrass , Folk and Rock material. Learn to solo and jam with others. Sandy is a systematic, experienced and fun teacher comfortable with beginners and up. Sandy is a performing player with the band Citigrass - samples of his playing with Citigrass can be heard on citigrass.com. Lessons are on Henry Street in Cobble Hill, Brooklyn. Class credit is available for NYU students. Contact: 718-923-5657 citigrass@earthlink.net

Ken Jewell, 5 String Banjo in Neptune NJ; kjewell21@optonline.net, 732.567.2455

My name is Peter Kelly. I live in Yonkers, NY (Westchester). I would like to take on some guitar students. I have a Bachelors in Guitar Performance from Berklee College of Music and about 8 years teaching experience. I play in an original rock/pop band called Hemenway. www.hemenwayband.com

Kenny Kosek: Master FIDDLER and teaches fiddle.... 313 West 91st Street Apt.4A New York NY 10024. My phone (917) 696 2162. email address(kennykosek@yahoo.com) website : kennykosek.com
myspace/thecitizenkafkashow
facebook/kennykosek

Alex Kramer teaches 5-string banjo, (3-finger, 2-finger, clawhammer, folk and pop), old-time and folk guitar, old-time fiddle, and songwriting in Brooklyn and Manhattan. My rate is $50/hr in my space in lower Manhattan or Brooklyn, more if I come to you.

Fiddle...... Marty Laster- teacher of bluegrass, swing and blues author of MelBay instructional books 30 years experience with bands, broadway and jingles beginners- through advanced welcome. 212-674-8959
mla15456@aol.com


Eric Lindberg
I'm a Bluegrass/ Jazz/ Rock/ Country guitarist now residing in New Brunswick NJ. I have a degree in Jazz studies from Mason Gross School of the Arts, and have played/ toured extensively in the Northeast states, England, Ireland, Scotland and the Middle East. I teach Beginning and Advanced students, with a large focus on Music Theory, Improvisation, and Composition. On the Bluegrass front, I teach many of the classic fiddle style tunes for guitar, and also finger style picking (Mississippi John Hurt, Chet Atkins etc.) On the Jazz side along with learning standards I teach Jazz theory, advanced improvisation concepts, and advanced harmony.
I will come to the students house for lessons (as long as the timing works out) and even though im in Jersey, i do teach in all of the greater New York area. You can contact me at ericlindb@gmail.com.

Tara Linhardt is an award winning musician who teaches and performs bluegrass, old time, celtic, and swing jazz styles for all levels and all ages from my new home in Hastings on Hudson, NY. Folks do not have to learn to read music unless they want to and need no prior experience to begin. I can teach the basic songs and tunes, and incorporate more advanced techniques like improvisation and theory when wanted and in a fun, no stress way. Students can learn to jam confidently with others if they want to. More info and for appointments: Taraworlds@gmail.com



Gene Lowinger New Jersey fiddle fiddlergene@gmail.com973-379-3049 Has played with Bill Monroe in the '60's, published three fiddle books and written articles for FIDDLER and STRINGS magazines.

Hello! Very experienced and versatile upright and electric bass player now
excepting students. Will travel to your home, or you can come to my place,
which ever is easiest for you. All ages, and styles. Essex county area, but will
travel. Contact Matt at 973-239-0280 or klossmusic@aol.com. 9/04

Mark: Guitar and Violin Teacher in Central and Northeast Jersey, As a guitar
teacher, I have been instructing students for over 8 years and I am capable
of teaching all genres or styles of music. I teacher guitar at three levels
: beginner, intermediate, and advanced. I have been playing violin for 20
years now and have been providing violin instruction for 10 years. I teach
violin at two levels: beginner, and intermediate. My URL:
http://musicapprentice.com


Doug Malcolm Ridgewood NJ 201 447 6891 Bluegrass banjo

ROSS MARTIN

I'm an acoustic and electric guitarist who recently moved to Brooklyn from Denver, CO. I specialize in teaching bluegrass flatpicking, jazz, and country guitar styles. I've performed with Matt Flinner, Tony Furtado, Mollie O'Brien, Sally Van Meter, Drew Emmitt and Darol Anger and have played on album projects alongside artists such as Stuart Duncan, Sam Bush, Joshua Redman, Ron Miles, Del McCoury and others. I'm located in the Carroll Gardens area of Brooklyn. Contact me at

ross@rossmartinguitar.com


Terry McGill Bluegrass banjo in New Jersey, can be reached at (201) 767-2370


Mandolin, Buddy Merriam
Buddy's Brass & Mandolin Shop 262A Main St.
East Setauket, NY 11733 631-751-1148
bmerriam@optonline.net www.BackRoadsBluegrass.com

Professional fiddle and mandolin player looking to teach improvisation and playing

Val Mindel vmindel2001@yahoo.com: old-time and bluegrass vocal styles, with an emphasis on harmony singing in the styles of harmony greats such as the Carters, the Louvins and the Stanleys. Also essentials for building your own harmonies. Val is recently arrived from Chicago, where she taught vocal harmony and early country repertory for the past seven years at Chicago's Old Town School of Folk Music. Upper West Side 1 212 595-6710

Barry Mitterhoff New Jersey; mandolin email BarryMitterhoff@hotmail.com also available in Manhattan's upper West side by appointment

Brian Neligan, dobro, Stamford , CT , 203-653-5024 or bneligan@yahoo.com

Dan O'Dea offers fiddle, mandolin, guitar, banjo, bass, and vocal lessons at Dan's Music Studio in West Orange, NJ. dansmusicstudio@hotmail.com 973-731-1082


Stacy Phillips New Haven; fiddle, dobro http://www.stacyphillips.com



Boo Reiners here, I teach guitar, banjo, mandolin and bass guitar at The Guitar Bar, 160 1st St., Hoboken, NJ (201)222-0915. It is steps away from the Hoboken PATH train and there's fairly easy parking as well. Guitboo@aol.com

"Rooster" Rick of the Homegrown String Band teaches old-timey clawhammer banjo in Rocky Point NY. (North shore of eastern Long Island)

Scott Samuels http://www.scottsamuelsmusic.com

Hank Sapoznik will take a limited number of students in both his home town of
Olive Bridge, N.Y. (Woodstock area) and in New York City for instruction in
old time 5 string banjo styles of clawhammer and Charlie Poole/classic banjo
playing. Hank, along with Val Mindel, Trip Henderson, Randy Weinstein, Marty Confurius and Dave Gandin, is a member of the Brooklyn Corn Dodgers.
hsapoznik@hvc.rr.com

Cynthia Sayer -- teaches plectrum & tenor banjo, jazz. Upper West Side
Manhattan. cynth@earthlink.net.
Website: www.cynthiasayer.com

Elio Schiavo - Mandolin teacher for students all levels and ages. Bluegrass, Jazz, Classical. You can learn to develop improvisation skills and build good technique, learn theory and solid practice habits. I will travel to you. Brooklyn and Manhattan. You will learn in a comfortable one on one setting and will have lessons special tailored to your personal needs. Please email me eliomandolin@gmail.com.




Jon Sholle (Rounder recording artist) accepting guitar students-flatpicking, bluegrass, swing, blues- Westchester area.
Website: http://www.jonsholle.com

Email: jsholle@aol.com




Brian Senecal Hello there! I give banjo lessons out of my apartment in the East Village to players of all levels. I specialize in bluegrass banjo but also teach classical, waltz, blues, etc. I' happy to focus on anything particular that you would like to learn, or to guide you from the beginning by teaching fundamental techniques, basic music theory (not as hard as you think!), and playing with others. Players of all levels are welcome, and the rate is $45/hour. My apartment is within walking distance of the 4,5,6, N, R, Q, W, F, V, and L trains. Feel free to email me at briansenecal@gmail.com with any questions or to schedule a lesson!

JOHN "GRAY WOLF" SENETA - Mandolin instructor looking for students S. NJ;
Phila, Manhattan areas
Web Site: http://home.comcast.net/~graywolfpd/Page1.HTML
Professional Recording Artist, Performer and Instructor has come up with a
few new openings for students of all levels. My eclectic approach will give
you a strong basis in all aspects of the instrument including:
improvisation, sightreading, technique and theory. I teach all styles: Jazz
and Swing; Classical; Bluegrass; Gypsy and other ethnic styles; Classic Rock
and Celtic. Lessons are available either in my home studio or at your location (limited
to schedule allowances).



Richard Stillman bluegrass banjo Montclair NJ richardstillman@verizon.net 973 783 0118
richardstillman.com also tenor banjo and mandolin

free bluegrass banjo lesson on line

Eli Smith www.DownHomeRadioShow.com
www.DownHomeLive.com lessons on: Banjo (clawhammer and other old-time styles) Guitar Harmonica
Autoharp . I am an experienced teacher of traditional American vernacular music in a
number of styles on above instruments. I will travel to your house for
lessons and also dub you copies of essential albums it would otherwise take
you years to find out about. I will go to Manhattan or Brooklyn unless it's
really far, then we can negotiate. - Eli Smith
All Ages Reasonable Rates Beginners Welcome!
call: (347) 834 3028
email: Eli_Smith@hotmail.com


RICK SNELL, Brooklyn
I am an acoustic and electric guitarist with specialties in bluegrass, old
time, Irish trad, gypsie swing and bebop. I also
teach the fingerstyle arrangements of Mississippi John Hurt and Doc Watson
among others.
I've worked with students of all experience levels and have developed an
approach to teaching which draws on the
student's passions and interests to direct the course of study. I stress
learning the arrangements and transcribing the
solos from the masters in each genre while directly dealing with the tools
those masters use to compose and
improvise. The overarching directive at each lesson is the development of
the student's own creative awareness and
sense of musical voice.
Please visit my website for further details or email me at the address
listed below.
ricksnell.com rick@dufus.tv

Benjamin Stowe Old-time Clawhammer/Frailing banjo lessons
I'm from Bloomington, Ind., and I recently graduated from nyu.
I live in Brooklyn. All ages welcome!
Please email bgs213@nyu.edu

Tony Trischka banjo, New Jersey tonytrischka@optonline.net.

Robert Urban - private music instructor I teach acoustic guitar, bass guitar, electric guitar, music theory, performance coaching, songwriting - - all styles Robert Urban - private music instructor
I teach acoustic guitar, bass guitar, electric guitar, music theory, performance coaching, songwriting - - all styles 134 west 95th street, Suite #1 NYC NY 10025 212-932-1044


Aron Weinbach - Bluegrass mandolin lessons. Specializing in Monroe style. All levels welcome. Located in Northern New Jersey (Bergen County). (201) 568-2075 or aron@rabinglove.com


Phil White Highly experienced teacher on the North Shore of Nassau County welcomes new students (including teens). Learn traditional, Old Time, bluegrass, Travis and Scruggs, flat picking. Blues harp too. Some students learn both banjo and guitar! Setup and luthier service. Philj200@hotmail.com

Michael P. Wolfsohn is a master teacher, author and performer.
"For the last twenty years, I have been developing the Total Control
Music System, a unique, proprietary set of concepts, methods and
materials designed to get fast results! I teach guitar, bass, banjo,
mandolin, keyboards, pedal steel, voice, theory, songwriting and
improvising. Bluegrass is one of my major specialty areas, and is my
personal favorite form of music. I can help you play and/or sing
Bluegrass really well, really quickly. I have studios in Brooklyn and
in Manhattan. Let me help you fulfill your Bluegrass dreams. There's
a lot more information on my website: http://totalcontrolmusic.com. Or
call me at 347-240-6613 or shoot me an email:
info@totalcontrolmusic.com."