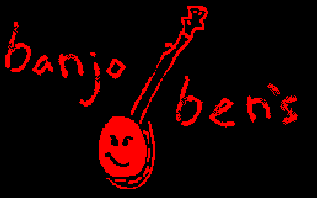 A bluegrass banjo instruction manual that Ben uses to teach his students:
"Beginning Bluegrass Banjo:
A Programmed Repertoire of Ten Essential Solos"
Thirty five pages, with clear instructions designed for Ben's beginning bluegrass banjo students, with tablature for how to play 10 classic bluegrass banjo solos. This web page has the 30 Mp3 tracks corresponding to the Manual, just below, as a free downloads
Introduction
Lesson 1: Banjo anatomy, and your first banjo
Lesson 2: Tuning the bluegrass banjo
Lesson 3: Getting ready to play
Lesson 4: How to read the tablature in this book
Lesson 5: Suggestions for beginners
The Tunes:
Lesson 6: Cripple Creek
Lesson 7: Foggy Mountain Breakdown
Lesson 8: Blackberry Blossom
Lesson 9: Ballad of Jed Clampett
Lesson 10: Old Joe Clark
Lesson 11: John Hardy
Lesson 12: Salt Creek
Lesson 13: Turkey in the Straw
Lesson 14: Clinch Mountain Backstep
Lesson 15: Whitewater
download free Mp3 tracks that the manual refers to:
1. 01-AudioTrack 01.mp3 the "note matching" method of tuning the banjo
2. 02-AudioTrack 02.mp3 tuning by listening to the octaves
3. 03-AudioTrack 03.mp3 tuning by listening for the "racetrack song"
4. 04-AudioTrack 04.mp3 counting the timing
5. 05-AudioTrack 05.mp3 putting the right and left hand notations together
6. 06-AudioTrack 06.mp3 "hammering on"
7. 07-AudioTrack 07.mp3 the "slide"
8. 08-AudioTrack 08.mp3 the "push off"
9. 09-AudioTrack 09.mp3 sustain
10. 10-AudioTrack 10.mp3 using a metronome
11. 11-AudioTrack 11.mp3 Cripple Creek played fast
12. 12-AudioTrack 12.mp3 Cripple Creek, played slow
13. 13-AudioTrack 13.mp3 Foggy Mountain Breakdown, played fast
14. 14-AudioTrack 14.mp3 Foggy Mountain Breakdown, played slow
15. 15-AudioTrack 15.mp3 Blackberry Blossom, played fast
16. 16-AudioTrack 16.mp3 Blackberry Blossom, played slow
17. 17-Audio Track 17.mp3 Old Joe Clark, played fast
18. 18-Audio Track 18 Old Joe Clark, played slow
19. 19- Audio Track 19 John Hardy, played fast
20. 20- Audio Track 20.mp3 John Hardy, played slow
21. 21- Audio Track 21.Mp3 Salt Creek, played fast
22. 22- Audio Track 22.Mp3 Salt Creek, played slow
23. 23-Audio Track 23.Mp3Turkey in the Straw, played fast
24. 24-Audio Track 24.Mp3Turkey in the Straw, played slow
25. 25-Audio Track 25.Mp3 Clinch Mountain Backstep, played fast
26. 26-Audio Track 26. Mp3 Clinch Mountain Backstep, played slow
27. 27-Audio Track 27.mp3The Ballad of Jed Clampett, played fast
28. 27- Audio Track 28. mp3 The Ballad of Jed Clampett, played slow
29. 29-AudioTrack 29.mp3 Whitewater, played fast
30. 30-AudioTrack 30.mp3 Whitewater, played slow
+++++++++++++++++++++++++++++++++++++++++
Praise for my instructional manual:
Ben: I think all this is really exceptional!! I am working on the beginning banjo songs I ordered from you and about most of the way thru.
Also, I recently ordered the 99 tab booklet and have recorded the mp3 off the internet to hear the songs I would like to learn.
I am currently taking lessons from John Hickman but I would like you to know that I have really speeded up learning the banjo because of you. Of course, practice helps too!!
Your teaching method is the best I have found anywhere. Even John says I have made the most progress of any of his students except one and he already was on his way while I didn't even know how to put the finger picks on but I do have a music background in piano so that helps, I imagine.
Thanks again for all you do to promote the banjo.... M. in Oklahoma
To order this manual, email me at benfreed@optonline.net
back to free bluegrass banjo lessons on line
Ben's personal bluegrass banjo tab collection...99 songs!!
NEW!!.....Ben's Hot Licks for Advanced Players!
banjo lessons with Ben Freed in Westchester County, NY